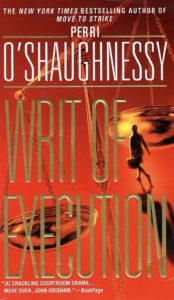 Writ of Execution by Perri O'Shaughnessy
When a local indie bookstore (Village Books – man, I still miss that place!!) was going out of business, I was in one of the final days perusing the bookshelves and chatting with Becky Asher, one of the employees. As we talked about what kind of books I like, she asked if I'd ever read any Perri O'Shaughnessy books. She was shocked when I said I hadn't because of my love of mysteries and the fact that the series genre is legal thrillers – and I'm a paralegal. Seems like a match made in Heaven, right? Anyway, I ended up buying every single Perry O'Shaughnessy book on the shelves. Carried them out in a grocery bag. And have been working my way through them ever since.
So, do I like them?
Yes, I do. But . . . before you read them, you need to know that these books have some age on them. This book is from 2007. That's not all that long ago, right? Well, it's not. At least, to me it seems like last year. But there are some things that threw me a bit. For instance, they don't use their phones as often as we do now. And some of the references are a bit dated – like a joke about something taking longer to count than the Florida votes. Have to admit, I'd forgotten all about hanging chads.
Anyway, this book is about Nina O'Reilly taking on a client who just won a huge jackpot at a casino in Tahoe. The client is a young woman who doesn't want anyone to know her identity. That's a bit of a problem when trying to get one of those giant checks. You can't just have that made out to cash. To complicate matters, there's a young man, Kenny, present at the casino who steps up to help protect the young woman. He saw it all happen. While he was playing the slots, the man next to him was methodically feeding one particular machine. The man had to pee, and asked our friend to watch his seat. That's when Jessie came in and fed the machine, and won. Much to the disappointment and frustration of the guy who had to pee.
Nina is tasked with finding a way for her client to collect the winnings without revealing her identity. They hatch a plan to quickly wed the client and the young man, so that they can collect the winnings as Mr. and Mrs. As often happens with Nina's clients, the plot thickens and bodies start dropping. Paul, the gallant private eye who has a thing for Nina (she hasn't decided yet if she has a thing for him. She kinda wants to, but it's just not easy.), joins the group to protect the new Mr. and Mrs. and find out who wants them dead. It could be an inside job, someone who rigged the machine to pay out. It could be Jessie's father-in-law, who blames her for the death of his son. Heck, it could be the mob – we're talking about gambling here.
As always, I'm a bit disappointed that Nina doesn't do more on her own. This time, though, she does take on Riesner, the opposing counsel who is a thorn in her side. When he pushes her too far, she fights back – and leaves him hurting (yea, Nina!).
The characters are interesting and I was rooting for them throughout. The plot was well-written and I didn't figure out exactly who the killer was until near the end (though I had narrowed it down). All in all, a good legal thriller that was an enjoyable read.
Monday Murders: Writ of Execution by Perri O'Shaughnessy